4 years ago I started this blog to participate in a writing challenge. This year I started a new series (Character Files), graduated from high school, and started my first year of college. Last year, I celebrated with a free coloring page. On my about page, I say that the name The Unique Geek "refers to the fact that God made each of us uniquely in his image. My blog is unique because I am a Christian geek, and my stories all reflect this." This fall, I changed my blog's name from Beyond Unique to The Unique Geek. The change came when I was asked to create a logo for my intro to graphic design class right as I was struggling with the direction of my blog. I chose a new name, created a new logo, and chose a narrower niche for my blog content.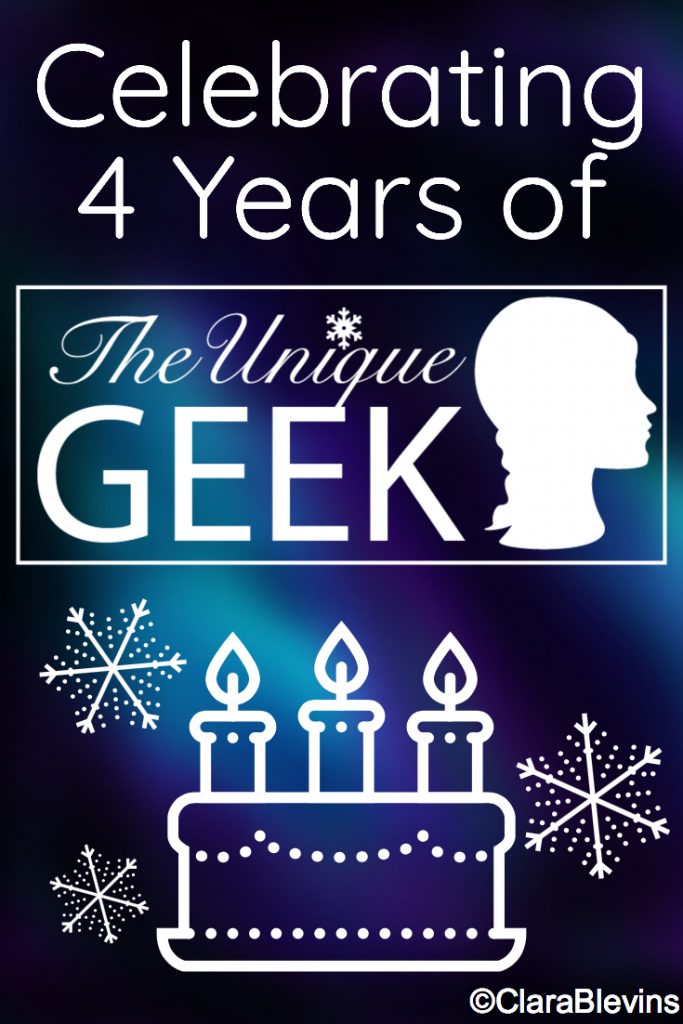 Today I want to share with you my favorite blogs posts from the last four years, starting with one of my first posts: Fairies and Butterfly Wings. Fairies and Butterfly Wings was inspired by the writing prompt: If you were an insect, what kind would you be and why? Since I am not that fond of insects, I chose to write why I'd rather be a fairy. 😉
Next on the list is the first episode of The Phantom Jedi, The Exile. The series is about to go into season two three years later. (What can I say, I've been busy with other things)
Posted not to long after that was a post that was part of my 3 post Batman Month series, titled Why Batman? In it I talk about why I chose Batman as the mentor for the main character of The Gotham Enigma, and why he is one of my favorite superheroes.
Speaking of The Gotham Enigma, one of the hardest choices I've made in the last 4 years was explained in A Perfect Beginning: A Letter to My Readers about The Gotham Enigma. In the fall of 2016 I decided to restart The Gotham Enigma . Like I said in my post: ". . .most of my stories will probably go through this stage." Perhaps 2018 will see another second draft appear.
The new draft has gone a lot better as far as plot consistency is concerned. One of my favorite scenes managed to survive can be read in Episode 6: The 2nd Mistake! Can you guess which one it is?
Another post that is a fav of mine is Meet Mandalore – The Creation and Backstory of Acacia Drii. Part of my 2017 Star War Month series, this post was the first in a new series of Character Files telling the backstory and creation of the character I have created for my fan fiction.
To round this list of my favorite posts is Episode 19: Crisis of Tradition with its final scene setting up the second season of The Phantom Jedi, Mandalore.
Anyways, I have to get back to getting ready for my second semester at college and playing with the lightsaber I got for my birthday. Happy New Year!!!