(I make a commissions for purchases made through links in this post.)
If you've read my post The Power of Wonder Woman, you probably know that I am a big fan of both the movie and the character. With the 2017 Wonder Woman movie came a lot of cool Wonder Woman themed products. So I sorted through Amazon® and found some of my favorites so you wouldn't have to! Here are 20 gift ideas for a Wonder Woman fan: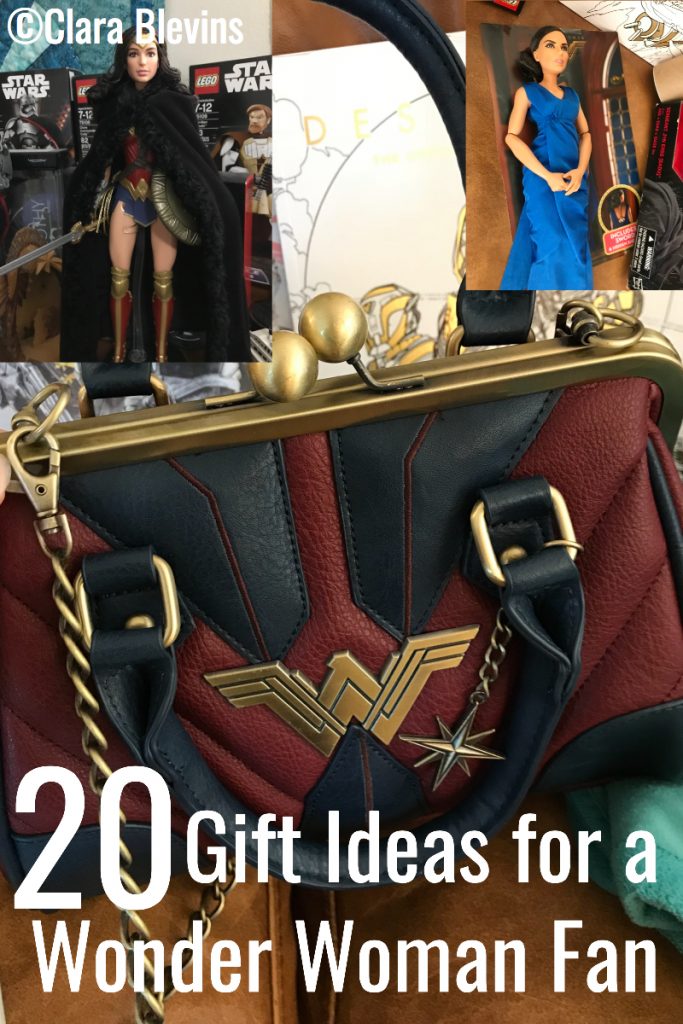 1. Wonder Woman Keychain: I have this one for my dorm keys, love it! 🙂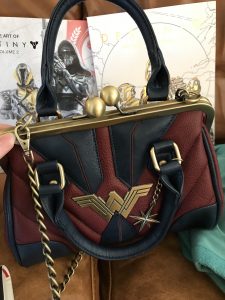 2. Wonder Woman Purse: I unwrapped this at Christmas and I love it. All my stuff fits in it nice and it is very well made!
3. Wonder Woman T-Shirt: This one is super cute and is totally going on my list.
4. Wonder Woman Earrings: Another item that is definitely going on my list.
5. Wonder Woman Furry Pom Pom Handbag Charm: This matches the purse and is super cute 🙂
6. WW Playing Cards: I love playing card games with my friends, so these are also going on my list.
7. Wonder Woman: The Art and Making of the Film: I got a couple of these books (One for the game Destiny and Star Wars The Last Jedi), and I love them. Once Christmas is over, I will probably order this one for myself.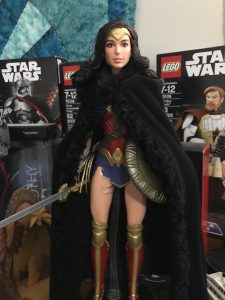 8. Barbie Wonder Woman Doll: I got this for my birthday and the quality is amazing. Definitely worth the price 🙂
9. Charms Bracelet: Perfect addition to any Wonder Woman themed outfit 🙂
10. WW Art Piece: Confident Beautiful Powerful Quote would look amazing in any room.
11. A Morphing Mug: For your coffee, tea, or hot chocalate drinkers.
12. In a world of Mortals Keychain: Very cool addition to any key ring.
13. Wonder Woman: Warbringer: My dad got me this book at the beginning of the school year, I still haven't had time to read it, but I will. Eventually.
14. DC Wonder Woman Diana Prince & Hidden Sword Doll: I got this one for Christmas and then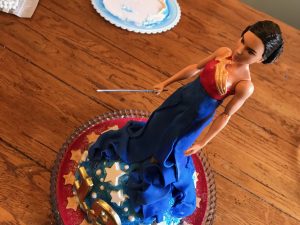 used it in my birthday cake, it looked amazing!
15. Aromatherapy Necklace: Because why not?
16. Wonder Woman Throw: Great for cuddling up with hot chocolate and a movie!
17. Wonder Woman Backpack: If I ever end up replacing my current backpack, I'll probably get this one.
18. Mousepad: for those of us who use an actual mouse with our computers.
19. Classy Journal/Notebook: Who doesn't want to take notes like a superhero?
20. Wonder Woman Scarf: Fashionable and perfect for all fall outfits.
Need more ideas for Geek Gifts?
Check out these other related gift idea posts:
20 Pieces of Jewelry Perfect for Geeks
21 Gift Ideas for a Batman Fan