(I make a commission for purchases made through links in this post.)
I just finished my first semester of college (Yay!). These last few months I have written tons of essays, including this one. I wrote this review for a college writing assignment in November about one of my all time favorite Star Wars® books. . .
"A great tactician creates plans. A good tactician recognizes the soundness of a plan presented to him. A fair tactician must see the plan succeed before offering approval. Those with no tactical ability at all may never understand or accept it. Nor will such people understand or accept the tactician. To those without that ability, those who possess it are a mystery. And when a mind is too deficient in understanding, the resulting gap is often filled with resentment." ~ Grand Admiral Thrawn, Star Wars: Thrawn
Star Wars: Thrawn by Timothy Zahn is an inside view of the Imperial Navy that gives you a chance to relate to someone in the Empire by focusing on the career of a brilliant tactician, Mitth'raw'nuruodo or Thrawn as most know him. Most of the time we prefer black and white stories about good conquering evil, but this story reminds you that the real world is not black and white. At the beginning of Star Wars: Thrawn, Cadet Eli Vanto is doing a training trip on the Imperial Star Destroyer Strikefast when the crew discovers a mysterious campsite while chasing smugglers. Instead, after losing men and fighters to mysterious causes, they end up with Thrawn stowing away on their ship and getting caught. . . seemingly on purpose. Star Wars: Thrawn is true to the character we know and love, while giving us more insight into his motivations, and bringing us on another grand Star Wars adventure.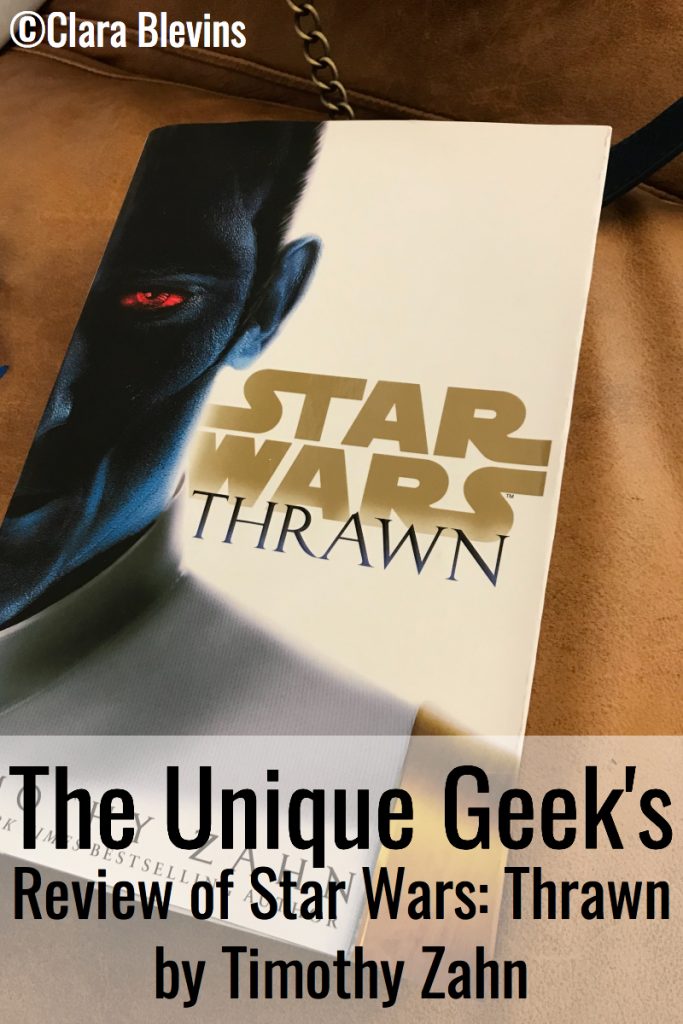 Thrawn was first made official cannon in the 3rd Season of the Star Wars Rebels TV show, but before that he made his appearance in the extended universe (usually just called the EU) in the Thrawn Trilogy. Heir to The Empire, the first book of the trilogy, introduces him as "the greatest military mind the Empire had ever seen." (4) Star Wars: Thrawn takes this character to a whole new level, and yet is still recognizable as the same Grand Admiral we grew to respect in the original Thrawn Trilogy.
Star Wars: Thrawn is a captivating story that gives you a better understanding of Thrawn and his motivations. At the beginning of each chapter there is a small journal entry from Thrawn, like the one at the beginning of this essay that gives us a way to see through his eyes. In addition, throughout the book there are moments we look directly from his point of view, like this one: "His voice is calmer, indicating unwilling acceptance." These usually are part of a conversation between Thrawn and another character. As Ricky Church, a movie reviewer for Flickering Myth, points out "Zahn, however, is very careful during the POV passages to not reveal everything Thrawn notices. Zahn keeps the character's feelings, motivations and especially his plans mysterious, leaving plenty of surprises for readers." While both of these insights do not instantly tell you what Thrawn is thinking, you start seeing the patterns about the same time as his aid Eli Vanto.
In Star Wars Rebels, Thrawn is the merciless hunter whose tactical ability makes him almost inescapable. Because it is a kids' show, Star Wars Rebels does not go into much depth about Thrawn's motivations, and he is simply seen as the evil tactician of the Empire. Star Wars: Thrawn shows how that is not the case, that The Grand Admiral cares more about life than most Imperials and acts honorably towards underlings, higher ups, and enemies alike. Most of the Imperials we see on screen, such as Grand Moff Tarkin and Governor Price, are motivated by greed, revenge, lust for control and power, and a scant few by loyalty to the Empire. Thrawn's motivation is none of the above, and is one of the main things that sets him apart. The cool thing is most of us did not even realize what was different until Thrawn reveals it to the Emperor when the future Grand Admiral is brought before him by the captain of the Strikefast. Even after you look back over his actions in the book, his motivation is still not completely clear. When Thrawn offers the Emperor his knowledge and tactical skills, it is because he feels that only a strong Empire would be able to protect his people and the galaxy from the evils his people see on the horizon.
Star Wars: Thrawn brings us on a great Star Wars adventure, as we follow the earlier career of the Sherlock Holmes of the Star Wars galaxy. As you would expect, being a rising star in the Imperial Navy during the expansion of the Galactic Empire brings many challenges and adventures. Perhaps the most interesting adventures are during Thrawn and Vanto's time at the Royal Navy Academy where several of the other cadets go out of their way to make the two outsiders' lives difficult. There are also the typical Star Wars space battles and chases, which are both familiar and new as we now see them directly through Vanto's eyes. For Thrawn, there are the challenges of being an outsider and an alien, and being resented for his abilities. Eli Vanto faces many of the same challenges and more as the discrimination from their academy days follows them both throughout their careers.
Timothy Zahn does a good job of bringing the character we know and love back into Star Wars canon, giving us more insight to his motivations, and taking us on another great Star Wars adventure. With smugglers, backstabbing politicians, rebels, and a thrilling end-game chase, Star Wars: Thrawn is everything a fan could hope for and possibly more. So next time you are in a bookstore, whether virtual or physical, consider adding this extraordinary story to your collection.
If you are looking for a good hard copy,

try this one

. I got it for Christmas and I love it!
Works Cited
Church, Ricky. Review of Star Wars: Thrawn by Timothy Zahn. www.FlickeringMyth.com, 11 Apr. 2017. www.flickeringmyth.com/2017/04/book-review-star-wars-thrawn-by-timothy-zahn/
Zahn, Timothy. Star Wars: Heir to The Empire. Bantam Books, 1991. Thrawn Trilogy. Kindle.
Zahn, Timothy. Star Wars: Thrawn. Del Rey, 2017. Kindle.