(this post contains affiliate links)
We move a lot, so decorating my room has been an interesting experience. Over the years I have gathered quite the collection of souvenirs and random things. One of the things I have made sure to do is incorporate my fandoms in my room design. This is the last post in my Star Wars Month series, and I have decided to gather some decorating ideas for y'all. Below are 20 Ideas for Decorating a Star Wars Room with pictures of my own design.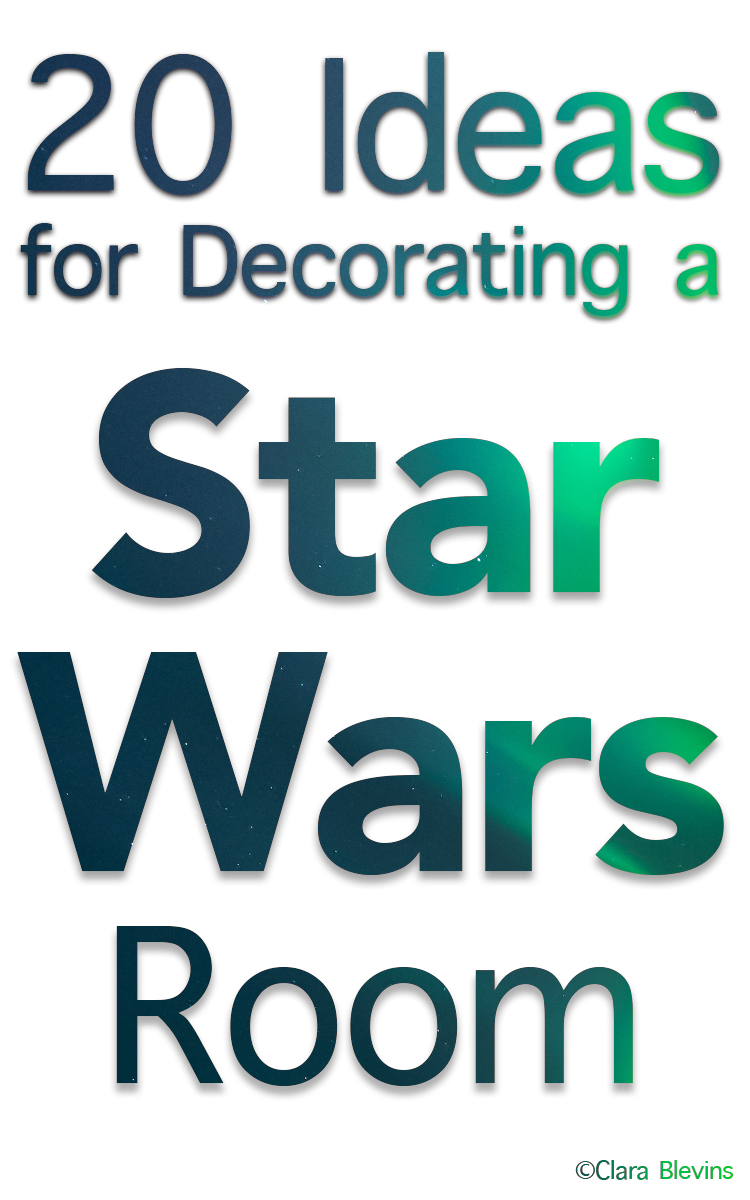 Posters: One of the first things you might notice upon coming into my room is what is on my walls. Posters, from the big ones to the page size ones. No two are the same, and though mine are a mix of all the different things I like, you could do all Star Wars. My mom has found $10 posters at Walmart® multiple times, but I am sure you could also find some online. Star Wars themed art pieces (like this one: A Long Time Ago Quote Typography Print) fall into this category I think.
Stickers: You might be thinking "What in the galaxy do stickers have to do with decorating a room?". The answer is on the cork board hanging on my door. On it are tons of small pieces of paper and plastic, displaying something about one of the many things I like. Star Wars cards from action figure boxes, pieces of those boxes, tags, and (you guessed it) stickers! Here are links to two different Star Wars Sticker Books: Ultimate Sticker Collection: Star Wars, Ultimate Sticker Collection: LEGO Star Wars: Minifigures (Ultimate Sticker Collections).
Cups: If you have a desk in your room, or a massive amount of pencils, you most ikely have a pencil holder around somewhere. For me, my Star Wars cup holds my Sharpie® collection. This cup is one my mom got me at a party store (or the party section of a store, and I don't remember which) and didn't cost much. Not only does it make a great pencil holder, but it looks just fine without anything in it to. Just saying. You could also start a collection of mugs as well, but I haven't yet. 🙂 LEGO® Star Wars Cup, A New Hope Ceramic Mug,
Metal Boxes: These boxes can serve the double purpose of looking cool and storingitems. Depending on the size, you could use them to store LEGOs, pencils, school supplies, etc. Place them on your desk or another surface and you have another bit of functional decorations.A New Hope Lunch Box, Clone Wars Pencil Box
LEGOs: Though I don't have room on the surfaces in my bedroom display all of my LEGO sets, I do have a few up. My 3 LEGO Star Wars Figures are on display on my bookshelf and my Bionicles® have a place on my dresser. My dad often displays his LEGO sets in his office, and someday I will find a way to show off more of my creations. For now though, Kenobi, Commander Cody, and Captain Phasma will have to do. . .
Lighting: Every room requires light, so why not make it part of your decorating budget? Honestly, the Lightsaber wall lamp is my favorite. Rebels® book light, Lightsaber Wall Lamp, Stormtrooper LED Table Lamp, R2-D2 Architectural Desk Lamp
R2-D2 Bluetooth Speakerphone: Do you like to listen to music? Why not have a Star Wars Bluetooth speaker? You can decorate your room with something functional and cool looking
Laminated Coloring Pages: As you can see in the picture, I use coloring pages to decorate my room. I color them with markers and then laminate them so that they don't rip when I move them. At the moment I don't have any Star Wars pages on my walls, I will as soon as I order this coloring book
Wall Decals: Similar to posters and stickers, wall decals are cool. I can't wait to get one for my room! The Force is Strong With This One, Rey Giant Wall Decal, I am a Jedi Like My Father Before Me
Wall Clock: Whether you are decorating an office or a bedroom, you are going to need to know what time it is. What better way than a Star Wars Clock?
Rugs: Let's be honest, who wouldn't want Death Star Rug in their room? Or one of these cool Star Wars Round Rugs?
Galaxy Jar: I have a jar on my bookshelf that I use to display rocks from my beach rock collection. If I have decorating a Star Wars room, a galaxy jar would definitely on my list.
Window Drape: I would love Star Wars window drapes on my window. Someday. . .
Buckets: These buckets can be both decorational and functional. From storage bins, to a trash bin, there are many useful purposes for buckets. Star Wars Buckets, R2-D2 Bin
Laundry Bin: Depending on how you do your laundry, you might need a laundry bin in your room. So why not have a R2-D2 Laundry Bin?
Storage Bins: If you are anything like me, you need plenty of ways to store your stuff. If only I had some Star Wars Toy Trunks. . . Another functional but awesome looking piece of decoration.
Blankets: Who wouldn't want to have a Star Wars blanket decoration your bed? Not only does it look cool, but it will be perfect for movie nights or plain old winter nights. Star Wars Fleece Lightsaber Fight, Star Wars Classic Throw, Star Wars Saga Sheet Set
Book Shelf: Check out this cool looking Star Wars Book Shelf
Pillows: Since entire bed sets are a bit out of my budget, not to mention I love the quilt my grandmother made for me, a Star Wars pillow is something I've been wanting for a while now. Which one would you pick? Blue Clone Pillow, or a Pillow?
Action Figures: if you're anything like me, you have a collection of action figures stored somewhere that you don't have the time or room to play with often. So, instead of just leaving them all in storage, why not display a few of them in heroic poses? You can even change it up every once in a while. 🙂 Here is a link to one of my personal favorite Star Wars action figures: Clone Wars® Padme Amidala.
this post was part of my Star Wars Month series.