Author's note: This series is currently discontinued and is hidden for that reason. If you have managed to find it, realize that it was written before Forsaken and Shadowkeep. I may choose at later time to revisit this story, but for now enjoy the past. I have started writing Thoughts of a Guardian, which are excerpts from Zara Adi's personal journal.
What does it mean to be a guardian?
According to others, it is about how we use the knowledge we attain, the people we choose protect, working with our fire teams, the legacy we leave behind, who we prevent from gaining power, and it is about the thrill and lessons that come from obtaining victory.
The question is, what does serving the Traveler and the City as a Guardian mean to me?
The weight of the pendant felt good in her hand. As Zara examined the pendant further, she fingered the intricate design. In the center was the Traveler's symbol, and attached to the pendant by a chain were three flags, one for each Guardian class. Her mind flew back to a few weeks ago when she'd faced Ghaul alone. His words about the Traveler and the unworthiness of Earth had angered her. But, as much as he was wrong, his words raised the questions she had tried to ignore ever since her Ghost had woken her up in the ruins of Russia.
"Guardian, I have a mission for you if you have the time." Devram's Brittish accent came across the comms, interrupting her thoughts.
"We are here Dev, what do you need?" Zara's Ghost inquired after a nod from Zara. Aiming at a Fallen Servitor, Zara pulled the trigger of her rocket launcher and stood up. Jumping off the roof of building she had been meditating on, Zara pulled out her hand cannon and took out the Fallen Dregs and Vandals that had been hiding in the Servitor's healing aura.
"We picked up some chatter and it appears there are some Red Legion survivors on the war path."
"That's not exactly news Dev, ever since we took out Ghaul and the Almighty a lot of survivor groups have been making small messes throughout the system." Zara's Ghost rejoined sounding a little miffed.
"Have any of them been led by one of Ghaul's top lieutenants? Based on the reports we've been getting, this group is especially resourceful and led by a powerful Centurion. Hawthorne wants you to go check it out and find the Cabal responsible. We have already lost several patrols in the area, so be careful you two."
"We always are, Dev. We always are." Zara responded smiling behind her helmet at his fatherly tone.
. . .
"Back already, Guardian?" Master Rahool, the City's resident Cryptarch, commented casually as Zara handed him the legendary engram she had taken from the lieutenant.
"You know me, Master Rahool." Zara answered cheerfully watching as his hands moved expertly on his pad.
"Indeed. That should do it. Good luck, Guardian." Master Rahool responded, handing her a new cloak and some shader chips.
As her ghost examined the items and decided whether to put them in her vault or dismantle them for glimmer, Zara walked over to the gunsmith's counter. Handing Banshee-99 her gun parts and trading them for another set of rewards, Zara smiled at Banshee's grumpy acknowledgment of her presence. "Take good care of that hand cannon, Guardian. The Sunshot is one of kind."
Zara ran down the hallways and jumped over a balcony rather than take the stairs on her way to the tower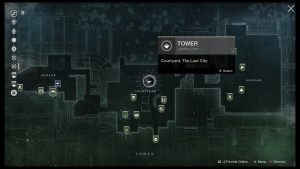 bazaar. Not that she was in much of hurry, but she never missed an opportunity to make a fun jump. After a few more turns, Zara emerged into the bazaar where Ikora Rey, the Warlock Vanguard, stood surrounded by books, candles, and other Guardians seeking advice or missions.
"How is the hero of the light?" Ikora called smiling when she caught sight of Zara.
"Took down another Red Legion insurgency in the EDZ and found something we thought you might recognize." Zara said returning Ikora's greeting with a bow and handing her the object in question.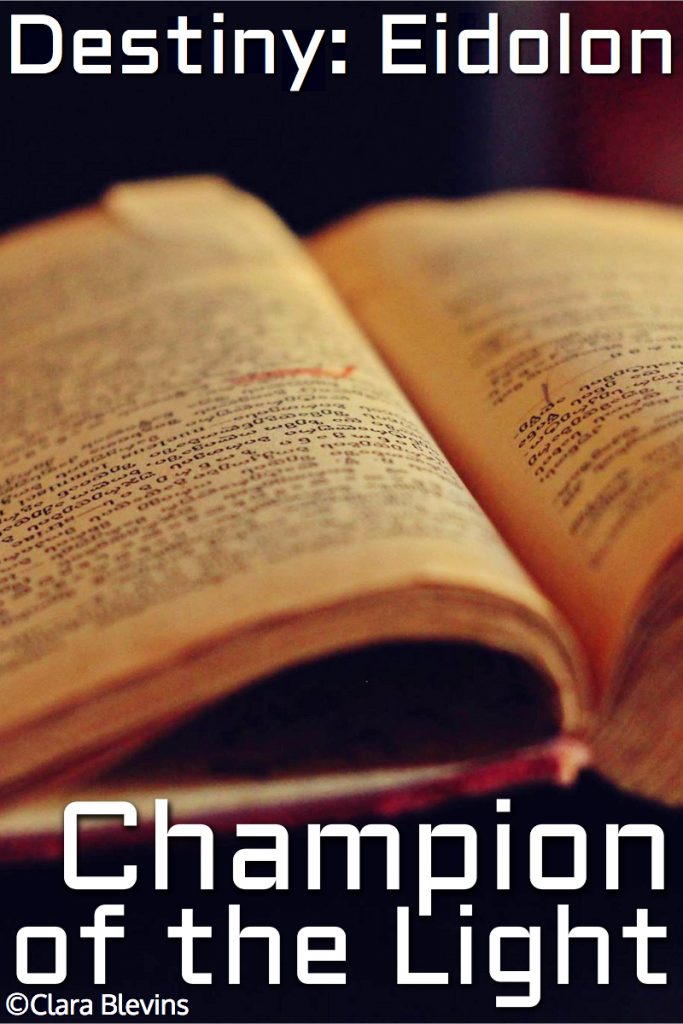 "Eris Morn's journal. That's impossible, unless. . ." Ikora breathed, her voice and expression full of shock.
"We found it in the possession of the remnants of the Red Legion. Maybe they were planing on using it to learn more about the Hive." Zara's Ghost commented, moving from above Zara's shoulder to hover a few inches from the book.
"Knowing Eris, I doubt they came by this easily. Eris hasn't been seen since the Tower fell. Guardian, go back to where you found it and see if you can find any trace of her magic. If she is still alive and being hunted by the Red Legion, we need to find her." Ikora directed, placing the book on her desk.
"Understood." Zara responded, turning back the way she had come. As she passed through the main courtyard, she waved at Tess, the City's Eververse merchant, before beaming up to her ship and heading back to the EDZ.
. . .
Zara walked through the hallways of the Red Legion camp where she had fought Ghaul's lieutenant and his followers. Nothing looked out of place, but then again it was a battlefield covered with the strange marks that her Void energy had left behind mixed with burn marks left by the Cabal weapons. As she came to the center of the camp, her ghost moved from its place at her shoulder. He started examining the chest where they had found the book for traces of Hive magic. Eris carried the shard of Oryxx and Crota with her, and her time spent hiding in the Hive underground using their magic to hide had left a permanent taint on her light.
"No traces of Hive energy anywhere." Her ghost observed thoughtfully, his blue ray probing the chest as he was still looking for something. Zara walked past him, study the Fallen painting on the wall.
"That wasn't here before." She commented calmly pointing it out to her ghost, even as the distinct sound of Fallen cloaking tech reached her trained ears.
"No, it wasn't. I wonder what it could mean. Do you think the Fallen know where Eris is?" Her ghost speculated returning to his place by her head to get better look.
"We're about to find out." Zara replied, pulling the Sunshot out of its holster and letting its heat remind her of its power.
. . .
To be continued
Thanks for reading! If you enjoyed the first installment of my new fan fiction, Destiny: Eidolon, please leave a comment!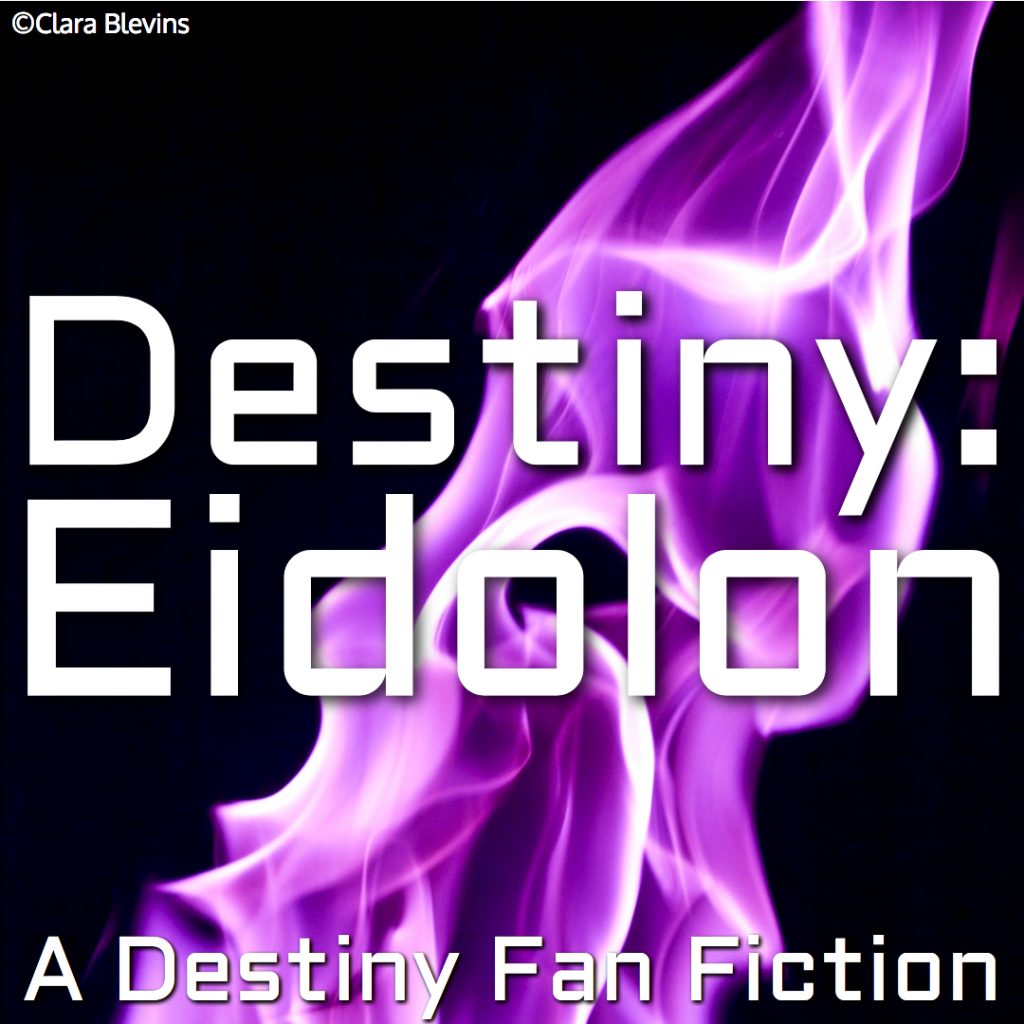 To read more of this series or see some related updates, check out my Destiny: Eidolon page.