The Gotham Enigma
Episode 2: Family
BOP Hideout, Bludhaven, NJ
Richard carefully placed the gem in its place, and gave it a moment to adhere the surface. Taking a deep breath and pushed the gem in gently with his finger. A small light behind the gem lit up, making the gem sparkle and glitter just like he had hoped it would. A victorious smile lit up his face and he let out the breath he hadn't even realized he had been holding. That was when he heard the sound of the hideout door opening. Moving quickly he slipped the small object into a box and hit the finger print lock.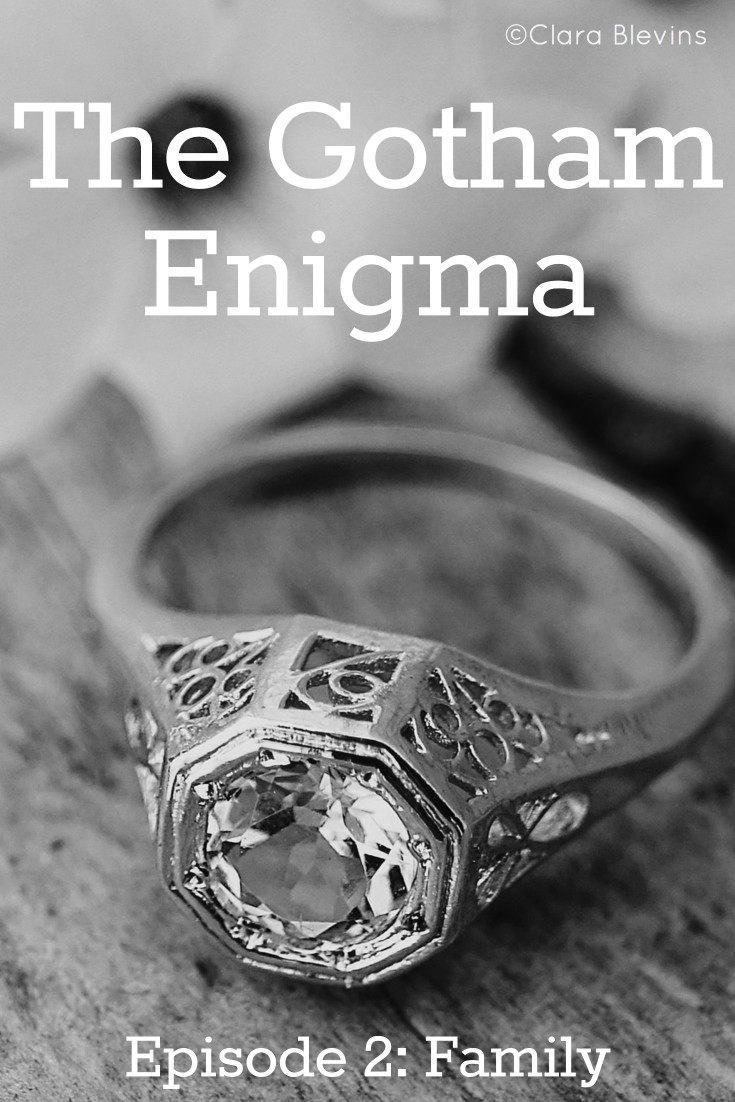 "Richard? Where are you?" Clara's voice called from the hideout's kitchen, followed by the sound of paper bags being set on the counter.
"Workshop. Did you get everything?" Richard called back, standing up and picking up his tools. Opening one of his desk drawers, he started putting them in their places.
"I think so. Did you get your secret project to work?" Clara inquired, leaning against the door frame one hand behind her back.
"The hard part is done. You're not even going to ask what it is?" Richard replied, closing the drawer and joining her in the door way.
"You will tell me when your ready. Guess what I found at the store?" Clara responded, the gleeful smile on her face
"You know I won't ever guess." Richard responded teasingly.
"Your favorite kind of candy." Clara told him holding up the bag.
They both laughed, and Richard put his arm around her waste and guided her back towards the kitchen.
"I know exactly what these will be good with." Richard informed her, pulling out the ingredients he needed from the grocery bags.
"Did you figure out how we are going to get into the swamp base?" Clara asked as she started putting away the other groceries.
"Not yet. But, I've been studying the case, and I think I found something. Remember how I said it was odd that the first one we found was still operating?" Richard replied, getting one of the cutting boards from the cabinet next to the stove.
"Yes. You examined the power source and said it was to low grade to keep anything like that operation running longer than a month. You also said it also looked like it wasn't original power source either, but we assumed that was due to the tenants that occupied the building before CADMUS." Clara replied, sitting on one of the 2 bar stools and rested her elbows on the kitchen island.
"After several hours of backtracking and comparison I have come to the conclusion that my original assumption was only partly correct. While the project has been in the building for approximately 4 years, the current tenants have only been using it for about 3 weeks. Which means that my original assumption was correct, though not the way I meant it at the time." Richard explained retrieving the minced garlic out of the fridge.
"Which means the original project is being used by someone else with less resources and less hands on knowledge than Lex. Probably for a very different purpose." Clara finished, reaching up to tuck a loose stand of hair back behind her ear.
"Exactly. The question is who." Richard agreed as he started chopping a red onion.
The Bat Cave, Gotham City, NJ
"Did you find anything, Master Bruce?" Alfred inquired, placing a tray of food in easy reach from the chair Batman was sitting in.
"I've narrowed down their hideout to two possible cities. I know that they have been seen in other places beside the CADMUS cloning facility, but I'm missing some key pieces to the puzzle." Bruce replied, folding his hands in front of him and studying the reports on the screen.
"I see sir. Shall I do the pre-fight diagnostic on the Bat Plane?" Alfred suggested, pouring some tea into a mug.
"That would be great, Alfred." Batman concurred, taking the offered cup of tea.
CCPD Crime Lab, Central City, MO
"You sure something isn't bothering you, Barry?" Iris West asked, placing her hand on Barry's shoulder.
"It's just this case I'm working on, something just doesn't feel right." Barry explained, running his hand through his hair.
"The Time King case? I thought that one was closed." Iris responded a look of confusion replacing the concern.
"No, a different case that I'm helping a friend with. I don't really feel like talking about it. We where going out to lunch?" Barry replied, redirecting the conversation.
"Right, lunch. I just have to tell my dad then we can go." Iris told him heading for the door and her father's office.
Barry turned back to the computer to log off and close it down when it suddenly dawned on him. Glancing at Iris's retreating figure, he typed a command into the computer and told it to the send the encoded results to the Bat Computer and closed the lid. He just hoped that he was right.
The Bat Cave, Gotham City, NJ
"Did you find their HQ?" Wonder Woman asked.
"Actually, Flash did." Batman informed her, fixing his gaze on the triumphant face of his young friend.
"All I did was run a probability program that compared the missions they ran as Robin and Sparrow with the list Bats made." Flash explained modestly, shrugging his shoulders.
"And?" Green Lantern questioned.
"Based on the data we have, they should be in Bludhaven." Flash informed them.
"Are you sure we should go after them?" Superman asked, giving Batman a concerned look.
"You won't be." Batman growled back, pulling his cowl over his head and giving it one last adjustment before heading for the Batmobile.
BOP Hideout, Bludhaven, NJ
"What if we come in this way?" Clara inquired, pointing to a place on the map on the table next to her. She was sitting on the table while Richard leaned over the map and the clues scattered on the table's surface.
Bruce paused and allowed himself to savor the moment. The feeling of unity that flowed between them was something he had only seen between them. Then the moment shattered.
"Father?" Clara breathed, jerking her head in his direction as Richard looked up to follow her line of sight.
"We need to talk." Bruce said, stepping out of the shadows.
"About what?" Richard asked sarcastically.
"Your investigation of CADMUS has resulted in some unprecedented situations, and I"
"This is my fault now? If you had been there when she needed you, none of this would have happened!"
"Richard!" Clara said sharply, jumping down off the table top.
"When she needed me?!" Batman growled
"Yes, when she needed you. If Waller had never discovered that reconstruction via metamorphosis was possible,"
"STOP!" Clara shouted "Just stop." she added with a sob as they both gave her a startled look.
Turning away from them in the stunned silence, Clara walked over to the desk and slumped into the desk chair.
For another long moment they both just stood there staring after her.
"I told myself I would never do that again, and yet. . ." Richard commented quietly.
"You and me both, Rich." Bruce replied, placing his hand on his young friend's shoulder. As Richard looked up at him, he added "This isn't your fault, it happened because of my mistakes. I should never have taken my anger at Waller and Lex out on you. I'm sorry."
"I'm sorry too Bats. It wasn't all your fault, I should have been able to protect her." Richard apologized, his voice breaking as he thought of how she had been when they had found her. Bruce offered Richard his other hand and Richard grasped it firmly as the two men locked eyes.
Clara sat in her chair her head in her hands, and she could hear her mother's voice just as if her mother was standing behind her.
Love always finds a way, my dear child. Even if it means sacrifice.
Her mind was brought back to reality as another sound filled her with apprehension.
Show me the wonders of your great love, you who save by your right hand those who take refuge in you from their foes. Keep me as the apple of your eye; hide me in the shadow of your wings from the wicked who are out to destroy me, from my mortal enemies who surround me. They close up their callous hearts, and their mouths speak with arrogance. They have tracked me down, they now surround me, with eyes alert, to throw me to the ground. They are like a lion hungry for prey, like a fierce lion crouching in cover. Rise up, Lord, confront them, bring them down; with your sword rescue me from the wicked. By your hand save me from such people, Lord, from those of this world whose reward is in this life." Psalm 17:7-14a NIV
To be continued
Want to read more about Clara and Richard's adventures? Check out The Gotham Enigma chronological page!
Important Read: A Perfect Beginning: a Letter to My Readers About The Gotham Enigma