BOP Hideout, Bludhaven, NJ
When Clara jumped up, Richard instantly knew something was wrong. He could see the anger and worry stamped on her face. As she used her Kryptonian speed to reach the door of the temporary medical bay they had set up, the silent alarm system Richard had set up became not so silent.
Grabbing for the extra pistol he kept under the table, Richard headed for the back entrance to the hideout followed by Bruce. The sound of gunfire and shouts filled the hallways, and just as they rounded the last corner they ran into the retreating unit. Shooting the first gunman in the shoulder, Richard closed in to limit the use of their machine guns. Slamming his first opponent into the concrete outer wall of the hideout, Richard turned and swept the legs out from under the gunman that had been coming up behind him. There was a sharp whistle hiss and another gunman was down, a taser batarang stuck in his protective vest. And all of the sudden the fight was over.
"I see you haven't forgotten what I taught you." Bruce remarked, retrieving his batarang from the fallen gunman.
Kneeling down, Richard examined one of the gunman as if he hadn't heard the comment.
"This is military grade gear with some serious upgrades." Richard observed, noting the lack of damage where the batarang had been.
"Do you think they are from CADMUS?" Clara inquired, putting one of gunmen's one handcuffs on him.
"It is the only explanation I can think of. We are going to have to move out of here before they realize what happened." Richard agreed, looking up at Bruce with an unspoken question in his eyes.
"There is an empty cavern near the Bat Cave that I've never had a use for. You should have enough space in there for everything. I also have some people who can help with moving your stuff." Bruce offered, looking from his daughter to her partner.
"Sounds perfect. But first there is something you must see." Clara replied, and there was no mistaking the excitement in her voice.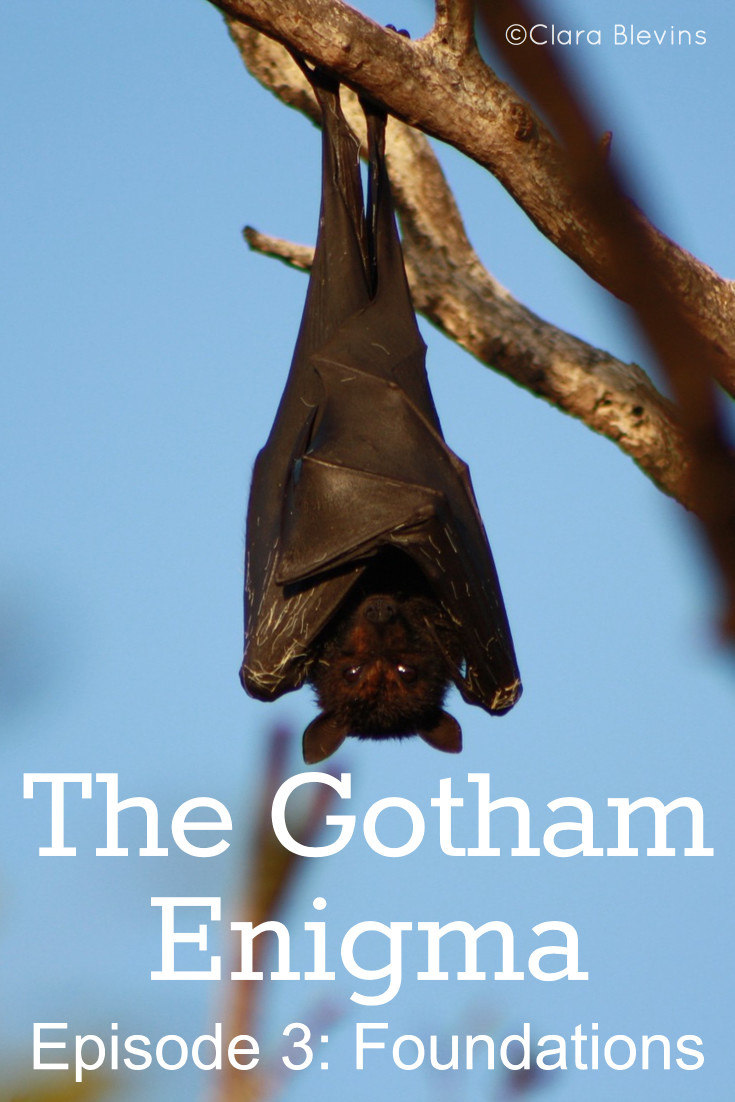 CADMUS HQ, Location Unknown
"By the time the backup team got there, our team was the only thing left." Colonel Bryer finished reporting, bringing up the image captured by the recon camera.
Waller inwardly regretted leaving the operation to Bryer's single control. No matter how many times she had reminded him that this was not your standard military sting, he never listened.
"I told you that would happened if you ignored my warning, Colonel. These are not your ordinary terrorists, as they have clearly shown. Sparrow on her own could have easily thwarted your attack, let alone Grayson." Waller reproved him, knowing full well it would go right over his head.
"That may be so, Ma'am, but it wasn't just them. Multiple men of the sting team said there was a third person on the scene. Their descriptions are varied, but they all agree that it was a man in a suit." One of the Colonel's underlings spoke up.
"So, not only have you forced them to go underground, but they now have an unknown ally with who knows what kind of resources. Honestly Colonel, tell me one reason I shouldn't send you back to DC." Waller fumed, glaring at her security chief.
The Bat Cave, Gotham City, NJ
Superman lowered the last box onto the cavern floor, and glanced around at the piles of boxes.
"What is all this stuff?" The Flash asked, opening one of the boxes.
"Prototypes I've been working on." Richard replied as he typed in the required commands and codes to integrate his computer into the Bat Cave System.
"What's in there?" Wonder Woman inquired, indicating the 6ft wide, 12ft long, and 8ft tall white metal container.
"Clara, can you check on the patients? I noticed some fluctuations during transportation." Richard said, seeming to ignore Wonder Woman's question.
"Sure." Clara responded, heading for the door in the side of the white container.
"Patients?" J'onn questioned, giving Bruce a concerned look.
"Clones we rescued from CADMUS." Richard explained, standing up and opening one of the boxes. Pulling out a file, he handed it to The Flash who sped read it and then handed it to J'onn.
"I thought they where just experimenting." Green Lantern commented, moving to look over the Martian's shoulder.
"That's what I thought to until we found Conner." Richard acknowledged.
"Who are they clones of?" Superman inquired, glancing at the medical pod.
"They are clones of you and the Flash. Your clone, Conner, has been awake a few times and picked a name. The other clone hasn't woken up yet, and but should be soon. We managed to get to them before CADMUS got passed the primary round of programing." Richard answered.
"Meaning?" Superman probed.
"Meaning that they know most of the things a normal teenager knows, but don't have any combat training or built in commands that I can see." Richard explained, as J'onn hand Superman the file.
"So that's why Waller is so upset." Wonder Woman commented, giving Batman a sideways look.
Richard moved about organizing the boxes in the unused cave, trying to keep his face neutral. However, Batman still caught the slight change.
"Is there something else you forgot to mention?" Batman asked, folding his arms and raising an eyebrow.
"Nothing you aren't already aware of." Richard replied doing his best not to be irritated.
"Everything looks fine. They're both still asleep, though it looks like Conner woke up while we were moving." Clara informed them, stepping back out of the medical bay and walking towards one of the boxes. Opening it, she started pulling out her gear and sorting it on her desk.
"Good. Do you know were my computer tools went?" Richard asked, opening one of his tool boxes and shifting around the contents.
Turning from her desk, Clara scanned the assorted boxes. Walking to the biggest group of boxes and she glanced over the hastily written labels.
"Where they in your lab box?" Clara questioned, opening one of the boxes and looking over the contents.
"Yeah. They would be in the one from my desk." Richard replied casually.
"This the set you were looking for?" Clara inquired bringing him the box she had been looking through.
"These should work. Thanks babe." Richard answered, grabbing a few tools from the box and getting on his back under the desk. Smiling, Clara placed the box down next to his desk, and went back to sorting her things. Behind them the Justice League were having a quiet conversation about the clones, while Batman headed for cave entrance. Clara wondered what he was up to, but decided to focus on getting their stuff situated.
Wayne Mansion, Gotham City, NJ
Bruce walked up the stairs, hesitating as he reached the top step. Taking a deep breath, he stepped into the hallway. Instead of turning right toward the master suite, he headed left to the other rooms on the floor. Placing his hand on the handle of the second door, he opened it. The bedroom looked just like it had the last time he had been in it. The paintings on the walls, the soft blue color of the bed sheets, the delicate white curtains the covered the french doors to the balcony, the beautiful lace on the edge of the pillow cases, and his mother's old vanity table. Sitting neatly on the surface of the vanity table was a box covered with a layer dust.
"Is something wrong, Master Bruce?" Alfred asked, having come in behind him.
"Clara and Richard are downstairs. I was debating about giving it to her in person or letting her find it." Bruce replied, not looking up from the box.
"Why not do both sir?" Alfred suggested, just as a door down the hall creaked.
"Maybe. Would you show Richard to one of the guest suites downstairs please. Move some of his stuff from his old room and make sure he has everything he needs to get his gear set up." Bruce said, turning away from the box to face his old friend.
"Of course Master Bruce." Alfred responded, nodding and exiting the room and closing the door behind him. Bruce glanced around the room, and then walked over to the closet. Opening it, he evaluated the contents. Most of the casual clothes would probably still fit, but Clara would need a few more gowns before the holiday season began. He was half way to the door, when Clara's voice came from down the hall.
"Father?" she called, the sound of her voice punctuated by a creaking floorboard.
"In here." Bruce called, stepping to the door and opening it to see her standing in the hallway, a confused look on her face.
"I was looking to see what I needed to get you when I order my new suits from this holiday season." Bruce explained, standing aside to let her enter.
"And?" She probed, looking up into his face.
"You probably need a few gowns and such if you planning on going to any parties, but not much else for now. Unless you want anything else, of course." Bruce replied, wondering why the words felt awkward.
Clara opened her mouth as to respond, but never did. Her eyes fell on the box on the vanity table and she froze a look of shock on her face.
"Is that?" Clara asked breathlessly.
"It is. Commissioner Gordon managed to get them out of evidence. I was planning on giving it to you for your 16th birthday, but. . ." Bruce responded, his voice trailing off the pain fresh in his mind.
"I'm sorry, Father. I should have. . ." Clara began, but he put his finger to her lips.
"Shhh, it wasn't your fault." He whispered gently in her ear as he embraced her.
"Thank you." She murmured back.
"Your welcome, princess." He replied in the same gentle tone.
To be continued
Want to read more about Clara and Richard's adventures? Check out The Gotham Enigma chronological page!
Important Read: A Perfect Beginning: a Letter to My Readers About The Gotham Enigma