Wayne Tower, Gotham City, NJ
Clara Wayne stood looking out the floor to ceiling windows at Gotham. Her back was to the long table surrounded by chairs and the doorway. As the board members walke through the door, none of them noticed her. Dressed in a black suit with her hair in a tight bun, she looked like another board member taking a moment to take in the view. It was when she spoke that they even realized they had made this assumption.
"Welcome ladies and gentlemen. Please, take a seat." Clara greeting them, turning and standing behind the head seat usually taken by her father's friend Lucius Fox.
"To what do we owe the pleasure, Ms Wayne?" One of the female board members inquired as they all took their seats.
Clara launched into her explaination, using her father's training to keep her face as neuteral as possible.
"A few weeks ago, my father was made aware of several leaks in our security. With the help of an old friend, he was able to locate the source of the leak to one of your computers. Assuming that it had been hacked, he had the computer check out. Sadly, that was no the case. The information, that is the private data of our employees, was sent to an anonymous user who in turn used this information to attack several of our employees. One of these employees had the skill and computer knowledge to recognize the attack pattern and reported it to the GPD. The hacker, a known hireling of Lex Luther, was caught a few hours later by Batman. At least a hundred employees world wide were effecte, probably more. There is no excuse for selling information, especially someone else's. Therefore, Mr Hamilton, I have to remove you from your position and take away any benefits you may have enjoyed as a board member. The GPD are waiting for you downstairs and my security team will make sure you make it there." Clara stated calmllly as the board members looked at each other in shock. Corporate secrets where one thing, employee information was another. And while both are considered illegal in Gotham (and by the employee contract all Wayne Enterpise employees sign), the former was sadly a common issue among the elite.
Country House Outside of Gotham City, NJ
Richard walked through the house behind his tour guide, not really listening to the woman's flirtatious ramblings about the advantages of the house. They where entering the master suite on the top floor of the two story house when his phone rang.
"If you will excuse me, I need to take this." He said politely to his tour guide.
"Of course. Meet me in the entry way when you are done to discuss the numbers." The woman said, not changing her tone or expression.
Putting the phone to his ear as he walked out on the balcony, he sighed.
"Long day?" Clara asked, sounding a bit tired herself.
"Yeah. I've been doing a bit of house hunting, and almost every tour guide flirting with me is getting annoying. How about you? You sound like you are exhausted." Richard responded, leaning on the railing of the balcony.
"I fired Hamilton and started going over the possible replacement candidates with Fox, did several press comfrences, a couple political appearances, and attended half a dozen other company meetings. Honestly, I don't know how father does it. I'm still feeling a little weak from yesterday, but I didn't think it would effect me this much." Clara replied in a melancholy tone.
"Well, you need to get some more rest and drink more water. I am going to go downstairs and talk to the realtor and then come home. By the way, if there was one thing you had to have in a house what would it be?" Richard inquired, watching as a flock of geese flew southward overhead.
"My family of course." Clara answered indignantly.
"In this house your family is a given, babe." Richard said laughing.
"In that case, a good kitchen and plenty of outdoor space for a garden." Clara stated decisively.
"That's two things, love. Nevertheless, I think the house I have in mind meets both requirements." Richard observed, becoming serious.
"I know that that was two things, but I want both of them for the same reason." Clara responded cheerfully.
"And why is that, darling?" Richard inquired.
"To have a places at the house to spend more time with you and father. Just like I do here." Clara explained, her tone reflective.
"In that case, you are going to love my plans for the bonus rooms." Richard commented casually.
"You are going to buy it?" Clara exclaimed excitedly.
"If I can get it for the right price, yes. It is right where I wanted it to be, meets all of our requirements, is the perfect combination of our styles architecturally, and has a few projects for me to work on before it's ready." Richard explained with a smile.
"Inia's for supper?" Clara suggested, sounding happier than she had at the beginning of the conversation.
"That sounds perfect. I love you." Richard responded with a mix joy and seriousness.
"I love you to, Rich." Clara replied, her tone matching his.
The CADMUS agent switched off his listening device, and type a quick message to his superiors. This was an opportunity they could not miss.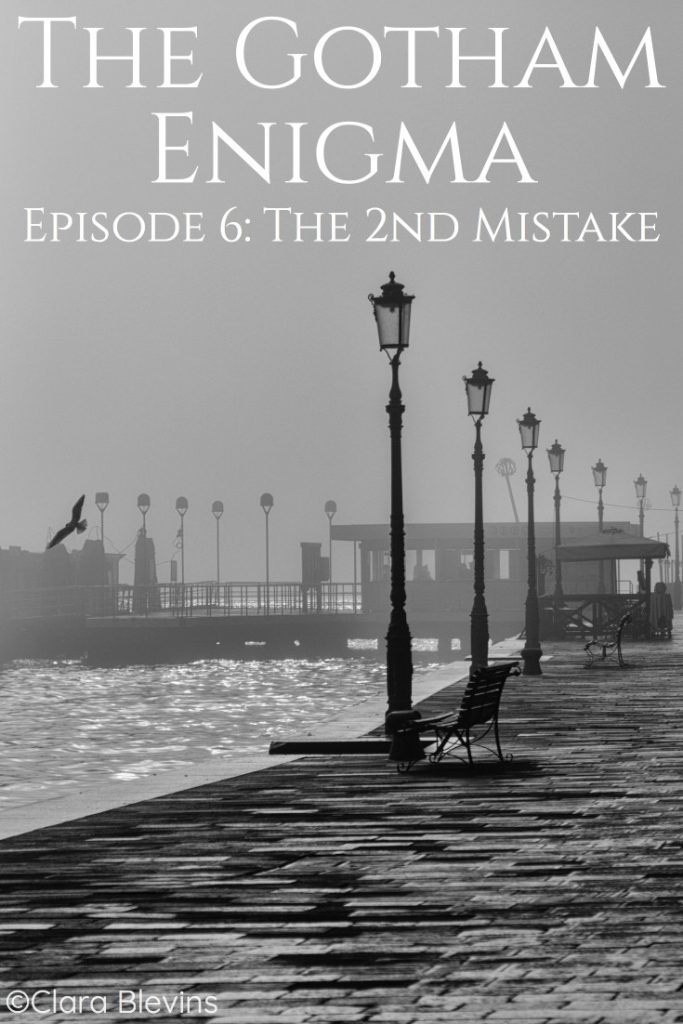 A Bridge in Downtown Gotham City, NJ
Clara listened to the water as it lapped the bridge's supporting pillars. The trees all throughout Gotham had started to loose their colorful leaves and the night breeze had the chill, indicating that fall had indeed started. Her long brown hair danced in the cool night breeze as she studied the stars sprinkled sky. She smiled as Richard began humming the tune to a song they had written when they where younger.
"Gotham is so beautiful tonight." Clara mused as Richard joined her and leaned on the railing to her right.
"Indeed, though I think some of that has to do with the eyes of the beholder." Richard replied, a hint of a smile in his eyes.
"True. But not all of it." Clara rejoined with a suppressed chuckle. He smiled and turned his head to examine the water. It only took a second for them both to be deep in thought. After a few moments of beautiful silence, Richard took a deep breath and broke the silence.
"I have something to tell you." he said quietly.
"When you took Ra's Al Ghul's sword for me… and when you refused to join your father." Here Richard hesitated for a moment, sounding unsure for the first time that night. The memories of those fateful missions stood before her as vivid as if she was living through it all over again. He took her hands and she turned to look him in the eyes, wondering what it was he was trying to say though her heart had already guessed at the answer. "I was so proud of you. I only had one regret… That I had never taken the time to tell you just how much I love you. I realize it is a tad bit sudden, but I can't risk waiting any longer." he added, looking down at their hands.
"Then don't." She replied gently, lifting her hand to his cheek.
Looking back up to meet her gaze, he got down on one knee and asked one simple question "Clara Anne Wayne, will you marry me?"
"Yes" Clara answered as tears of joy weaved their way down her face.
As Richard slipped the ring he had created himself on her finger, the rest of the world seemed to fade away. Everything was as it should be. And then as he kissed her, a sting on his neck told him that wasn't true. As he drifted into unconsciousness, his last memory was of muffled screams and the feeling of Clara's body falling next to him on the planks.
To be continued
Want to catch up on The Gotham Enigma? Check out the series page!
Thank you for reading!