Stolen CADMUS Submarine, the Atlantic Ocean, NJ
Richard woke up to a lancing pain in his jaw as someone punched him in the face. Almost going back into unconsciousness with the blow, Richard fought the dizziness and pain focusing the voice he could hear taunting him.
"Come on rich boy, wake up!" The soldier's voice scolded, as he readjusted his glove. Richard recognized it and instantly felt the anger rise inside of him, threatening to overwhelm him.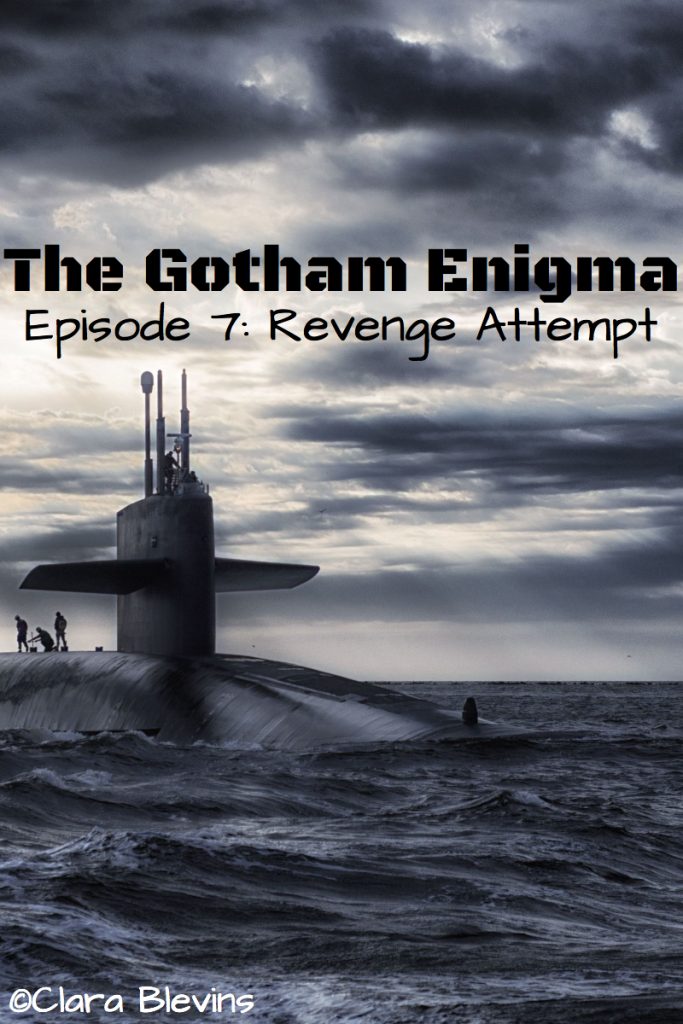 "That's funny coming from you, Cain. Let me guess, Waller popped you out of prison and asked you to be her errand boy." Richard scoffed looking up at his captor.
"Waller doesn't know I'm out, rich boy. And by the time she figures it out, it will be to late. You will be dead and your blood will be on her hands." Cain scoffed as he stood up and moved behind Richard.
"And they call me a monster." Richard sighed to hide his relief.
"Oh, you earned that title Rich. I wonder how much your girlfriend knows about that." Cain taunted cheerfully, not noticing his prisoner's expression.
"More than you think." Richard replied doing his best to hide his smile.
"Is that so? Well, I'll make sure to ask her when I introduce myself." Cain returned, not noticing the smile as he worked on making sure Richard's bonds were tight enough.
"You have no idea why Waller's staying away from us, do you." Richard observed cocking his head at his old friend.
"Rumor is that your guardian paid her off. But honestly, I don't care. You are going to pay for what you did." Cain responded testing the edge of his knife as he came around and looked down at Richard.
Richard closed his eyes and lowered his head as the door behind Cain opened. The grunt of pain from Cain and the following sound of a body falling came as no surprise.
"Did you learn nothing? Rule number one for any mission: do your homework. It might just save your life." Richard admonished the unconscious Cain.
"Are you ok babe?" Clara asked as she knelt beside him and began untying the ropes that bound his hands and feet to the chair.
"Just a few bruises, I'll be fine darling. He hadn't really started yet. Did you get all of the files?" Richard responded as she freed his right arm.
"I did. I also called the coast guard, so we should be rescued any minute. I managed to sound reasonably shaken." Clara informed him as she moved to free his other wrist. A few seconds later it was also free and Clara borrowed Cain's knife to saw through the ropes on his ankles.
"Sometimes I wish our plans didn't work so perfectly." Richard complained rubbing his wrists.
"That wasn't your fault." Clara reminded him as she helped him stand.
"Yes it is. I knew they where there, I should have lost them. But I relied on the fact that Waller was just keeping an eye on us." Richard said, his voice reflecting the self-reproach evident on his face.
"I think she was just keeping an eye on us. Cain just said she didn't know he was out, and while he could be lying, the security videos I just pulled from the kidnappers body cameras suggest that they used Waller spy to lead them to us. If the images are accurate, they left him unconscious right where father would find him." Clara explained as the sound of boots and commands came through the open door.
"In other words, Waller might now realize she's being used again and open up. Instead of getting his revenge on me, Cain has created an opportunity for us to take CADMUS down from the inside." Richard whispered as they moved out of sight of the doorway.
"If she decides she can trust us." Clara murmured back.
"Who else can she trust? No one in CADMUS is free of doubt now." Richard replied, sounding more confident than either of them felt. The fact that they both knew but didn't voice was that there was a good chance Waller couldn't be trusted either. Sometimes a common enemy is enough. But that is not always the case.
Bat Cave, Gotham City, NJ
Batman watched through the one way glass as the CADMUS agent trembled under Diana's gaze.
"I'm not going to hurt you. But if you don't explain why you where following those kids, I can't guarantee that your next visitor won't." Diana informed the man as she sat down across from him. Her accent came through clearly over the speakers that allowed Bruce to listen in.
"If I tell you, I'll loose my job." The man replied apologetically, wringing his hands nerviously.
"I understand that, but if you don't tell me what you saw and what you were doing, those kids could loose their lives." Diana countered, opening the file in front of her and putting the image of Richard on his knees proposing to Clara in front of him. After a few moments, the CADMUS agent opened up.
"I was tailing a suspect with orders to report their movements to command and inform a specific unit when he would be completely occupied. Earlier today he got a phone call from his girlfriend and they set up a dinner date to celebrate finding the perfect house. I sent in my report informing command of his movements and then sent the unit the location details for the date. I figured that the only time he was ever completely occupied was when he was on a date. I was tailing him as his girlfriend along the bridge, when something hit me from behind and I blacked out. I woke up here." The man explained hesitatingly.
"Can you tell me the unit's number?" Diana asked as she closed the file.
The agent recited the number and Barry typed it into the computer to check the CADMUS files they had gathered in their last mission.
"There isn't any unit by that number on the records. However, when I did a broader search I came up with this." Barry informed Bruce, handing him the tablet he had been using. The image showed a navy unit posing for a group picture. Underneath was the names of the unit members as well as details of their assignments and records. Richard had been the unit commander and had been vital in busting the majority of his unit for smuggling. After receiving accolades for his bravery during the operation, Richard had vanished into retirement. Which raised the question, who was using the unit number now?
To be continued
To read more of The Gotham Enigma, check out the story page.