Over 30 years before present day. . .
Countess Alta Rau stood with her baby son in her arms, and her three year-old son clinging to her leg. Behind and below them, flames consumed the stronghold of House Rau, as the mercenaries killed those of House Rau, warrior and villager alike. Around each boy's neck hung matching chains with a different colored crystal hanging from it. The Jedi Master opened his mouth to try once more to convince the Countess to flee, but she held up her hand before he could speak.
"I cannot leave my people to die alone, Master Jedi. But I can make sure that our legacy lives on. Please, do not argue. Take my sons where they may grow up in safety hidden from our enemies. When the time is right, tell them of their heritage and where they came from. I will die in peace knowing they will live and with pride for what they will become. As you say, May the Force be with you." Alta instructed with tears in her eyes as she handed the baby into his arms and knelt before her eldest son. "Go with the Jedi my son. I will always be with you." Turning, Countess Alta returned to the fight not even watching as the Jedi and her sons made their escape. It was said of that day that neither Mandalorian nor mercenary escaped the walls of Fort Rau, such was the fighting and destruction.
The Jedi Master took the eldest son, Fenn Rau, to the Protectors of Concord Dawn and entrusted them with a message telling of the boy's heritage to be given to him when he came of age. The youngest, Ben Rau, was given a new name and history and was lost to all records. Some have guessed that he was left with another Mandalorian house. But most have never guessed the truth.
~ Fenn Rau telling his niece, Acacia Rau, about her heritage.
Approximately 20 years later. . .
The young girl stood before the Jedi Council. Ignoring the Council members' worried and disapproving expressions, she played with the crystal hanging from a chain around her neck. Around her, the adults talk about her unusually strong connection to the force, the rare colored lightsaber crystal she had found, and her recently discovered birthright. In the end, the Jedi Council chose not to continue her training for fear of the darkness they sensed in her future. The Jedi Master who had brought her before them exchanged a determined look with an older padawan as he left the room.
"You will train her anyways, even though they have forbidden it." young Obi Wan Kenobi said to his master, his tone a mix of reproof and gratitude.
"Yes I will, my young friend. I foresee that someday, when you are both ready, you will train her as I have trained you. Until then I will entrust her to her uncle and the Protectors. I have a feeling when the time comes, the council will reconsider their decision. For now, I will do what I can." Qui-Gon Jinn replied calmly as the child went on studying her new treasure, her hand trustingly in his.
Approximately 5 years later. . .
Acacia Rau and her cousin Ava Kryze walked on a hiking path on Concord Dawn. Ava was carrying her 1 and a half year old brother, Korkie, and looked every inch the Mandalorian heiress she was. Acacia, in contrast, was wearing a simple belted tunic, trousers, and boots. The only things that set her apart from other children in the village was her Padawan braid and the engraved case that hid her lightsaber. Ava was visiting with her mother, Bo-Katan Kryze, who was mourning the anniversary of the death of her husband, who had been killed 2 years before in the line of duty.
"It's not fair! I can handle a stun staff as well Chen can." Acacia said petulantly, kicking one of the many pebbles on the path.
"Maybe so, but I am sure Uncle Rau has his reasons for not letting you go with the hunting party." Ava observed in what she thought was a soothing tone. However, it had the opposite effect on her younger cousin.
Before Acacia could vent her frustration with a verbal rampage, a disturbance in the Force caught her attention. Stopping, Acacia reached out with her growing senses. As if on cue, Korkie began to cry loudly. The feeling was unlike anything Acacia had ever felt before and yet it felt familiar. Like something she had felt in a dream. The pure and all enveloping evil fog that now surrounded them in the Force didn't feel like a person. It felt like a monster.
The ground began to shake and the ground in front of them erupted with a earsplitting howl. Acacia stood frozen in fear to the spot as before her rose a baby rancor. Behind her, Ava screamed and Korkie's cries got louder. At the sound of her cousin's scream, Acacia was no longer afraid. Anger and protective love rose inside of her. Acacia let go and allowed the Force to guide her lightsaber that had magically appeared in her hand.
Only half conscious of her own voice shouting at Ava to run, Acacia attacked the creature. The memory of the fight was blurred confused jumble, but the outcome was inevitable. Moments later the fight was over and Acacia stood dazed in front of the dead rancor. Suddenly the trance-like state that had overcome her snapped and she could hear voices calling her name. Turning around, she saw her uncle and his son, Chen, running towards her. Then she was falling into a sea of darkness.
A few months later. . .
Acacia was training in her room while her uncle was away on an assignment from Duchess Satine. The room was filled with a combat holo-simulation in the bridge of an old Mandalorian flagship. Acacia was taking on the Sith Empire soldiers, completely focused and trying to remember every little thing her instructors had told her.
Mid simulation, Obi Wan Kenobi walked through the door looking exhausted and worried. For a moment, Acacia didn't see him as she used one of the techniques he had taught her on the child sized soldiers. Suddenly seeing him the child's face lit up and she called to him in Mandalorian. She ran to him and looked up at his face with a smile that disappeared instantly. Her chin hit her chest as she tried to hold back a sob.
"I hoped it was all a bad dream, just a nightmare that would go away like they used to." Acacia almost whimpered as he knelt in front of her.
"Not all nightmares come true, little one." Obi Wan reminded her gently putting his arm around her.
"You won't be able to come anymore, will you." Acacia stated sadly, not seeming to have heard him.
"Not as often, princess. Someday you will understand, but for now just know that I will come as often as I can." Obi Wan admitted hiding his inner conflict as best he could.
"Promise?" Acacia entreated, looking up into his face.
"I promise. Let us see if we can't take back this warship together, my little fighter." Obi Wan responded, hiding his own pain in his effort to cheer her up.
Present day. . .
Acacia Rau sat in her mother's sitting room trying to study her etiquette homework, but her mind was on her argument with her history teacher. She knew her mother was not going to be happy.
"Acacia Alta Rau! What where you thinking correcting him like that?"
"He was being disrespectful to our heritage, Mother, and I"
"Acacia, have I taught you nothing! More violence will destroy us!"
"That isn't what I meant or what I said! I said we should respect our past, learn from it yes, but never twist or deny it. He was telling us to pretend the wars never happened, to forget the sacrifices that made the peace we live in now possible!"
Satine's face paled in shock at her daughter's outburst and her anger turned to worry as Acacia broke down weeping. At the beginning of the argument, Acacia had stood up, but now she had slumped back down on the couch.
"He was asking me to forget Grandma Alta, Father, Uncle Katuri, Master Qui-Gon, Master Sifo-Dyas, Aunt So-Ri. . ." Acacia explained, her voice trailing off as her sobs made it impossible to speak.
"Oh darling, I'm sorry." Satine whispered, putting her arms around her daughter.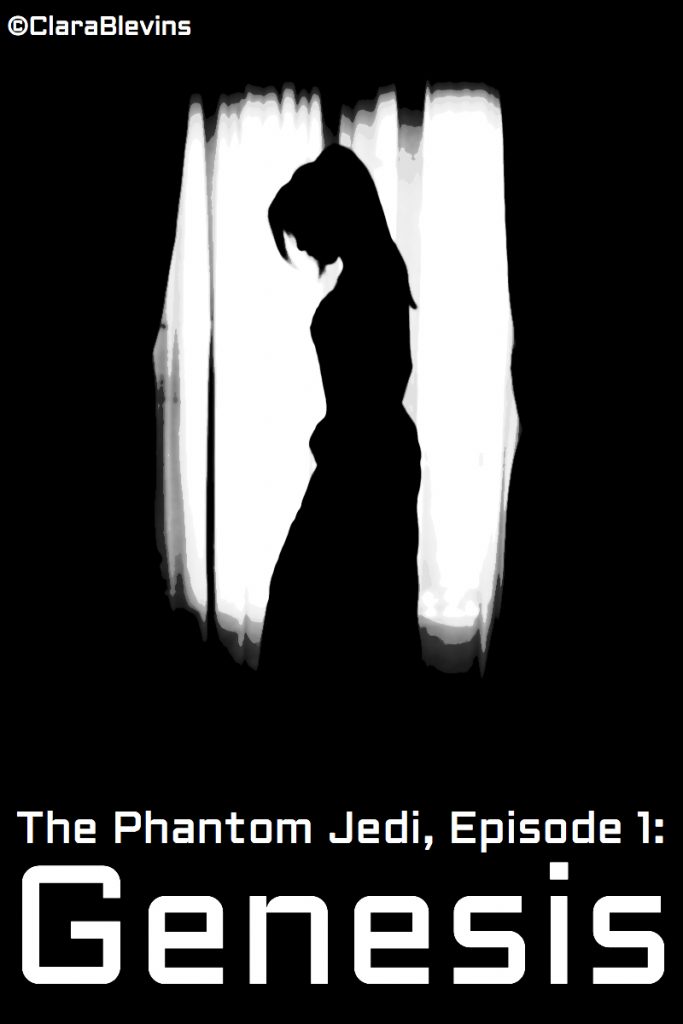 A few hours later. . .
Your powers are a gift, young one. You see things no one else can. Some may never believe you, but they are not the ones your visions are for. Remember that, Cia. The Force will guide you, always…
The voice of her father broke through her dreams and Acacia woke up with a start. Looking at her chrono, she got up and dressed in her darkest clothes including a dark black cloak of a similar style to those by the Jedi. Slipping out of the palace without alerting the guards, Acacia took her speeder down to the public docks. Waving her pass at the security guard outside the hanger she rented, Acacia stowed her speeder in what now served as the cargo bay of an old Mandalorian fighter.
In the original design it would have been where the passengers would have sat, but Acacia had taken almost all the seats out of The Mediator and had equipped it with a place for her armory and her other cargo. Hitting the cargo bay door switch, Acacia walked past her gear and slipped into the pilot chair. Keying in her clearance codes, she put in a fake destination and waited. Just as the air traffic control cleared her for takeoff, her nav computer had finished its calculations for the jump to her real destination. The Outer Rim world called Thordia.
~
Acacia listened to the everyday bustle that surrounded her. Her informant was doing his best to hide his nervousness. Obviously the man knew something, something very important. "Reno, please." She pleaded, careful not to sound to desperate.
"Alright, alright. I overheard one of the lower city apartment managers talking at the cantina. Rumor has it that his apartment complex is the one the Mandalorian assassin regularly stays at. And, I also learned that he arrived about moon rotation ago. This disk has the entire discussion recorded on it, among other things." The old man answered nervously, handing her the disk in trade for the credits she had offered.
"Be careful, child." Reno voice wavered, full of grandfatherly concern. He looked her in the eye something he hardly ever did. "Mandalorian Assassins aren't your everyday criminals."
"I'll be fine." She replied squeezing Reno's hand, which automatically released its hold. The former Protector didn't look convinced, but he didn't argue either. As she turned away, Acacia's thoughts flew back to when her uncle had first told her the story of her grandmother's death. It had been hard tracking down other members of House Rau since most had perished alongside her grandmother. However, she had guessed that House Rau, just like every other clan during the era, had ears and eyes elsewhere. That was why she was here, on this planet which had been one of the main places House Rau had ties to. Now to find Ibris Rau, House Rau's inteligence expert and the only other survivor of House Rau.
But before she could make it to her destination, she was attacked by a group of smugglers. Acacia fought hard, killing and wounding many, but eventually they overwhelmed her.
To be continued. . .
This series has been restarted, read this post to learn more about what that means for The Phantom Jedi.
This post was posted in honor of Star Wars Day.
This post is part of my 2018 Star Wars Month Series and is a Star Wars Fan Fiction. To learn more about The Phantom Jedi, click on the image below.