Acacia woke up to find herself in a energy cage in the center of the Igni's gang's hanger bay. The gang members bussled around the cage, preparing their ships for departure. The smuggling craft were nothing compared to the ships she saw every day back home, but the cargo caught her eye. She noted the many kinds of things only available on the black market, including some very rare high power Mandalorian pistols, worth millions a piece.
That's when there was a disturbance at the entrance. Igni had just returned from his dealing with the local Hutt as a man dressed in Mandalorian armor accosted him. They argued for several minutes, before the Mandalorian shot Igni and started taking out everyone else in sight. One of the gang member's panicked and ran his cart full of pistols into the power generator, the resulting explosion killed several more gang members and deactivated the force field that served as Acacia's cage.
"Stop!" The Mandalorian shouted as Acacia charged forward. Ignoring his order, she grabbed two of the pistols and opened fire on some of the other gang members that where coming up on the Mandalorian from behind. As she scanned with the force through the chaos for her lightsaber.
Acacia went around the Mandalorian as the last smuggler fell, scanning the dead bodies of Igni and his guards for…
"They don't have it." The Mandalorian informed her quietly from right behind her.
Hiding her surprise at his unseen approach, she turned and gave him a questioning look. "If they don't have it, then who…"
Before she could finish, The Mandalorian held her lightsaber out to her. Acacia took it but it only increased her confusion.
"Why?…" she started to ask, but the Mandalorian raised his hand to silence her.
"Come." He ordered her, walking toward the back entrance as sirens began ringing in the nearby street.
Acacia followed him without a word, trying to get a feel for him in the Force. He felt a bit on edge, which made sense.
"Here." The Mandalorian thrust a jet pack into her hands. As Acacia followed him into the sky, she wondered where they were going and who they would meet when they arrived. But she never imagined how much that meeting would change her life.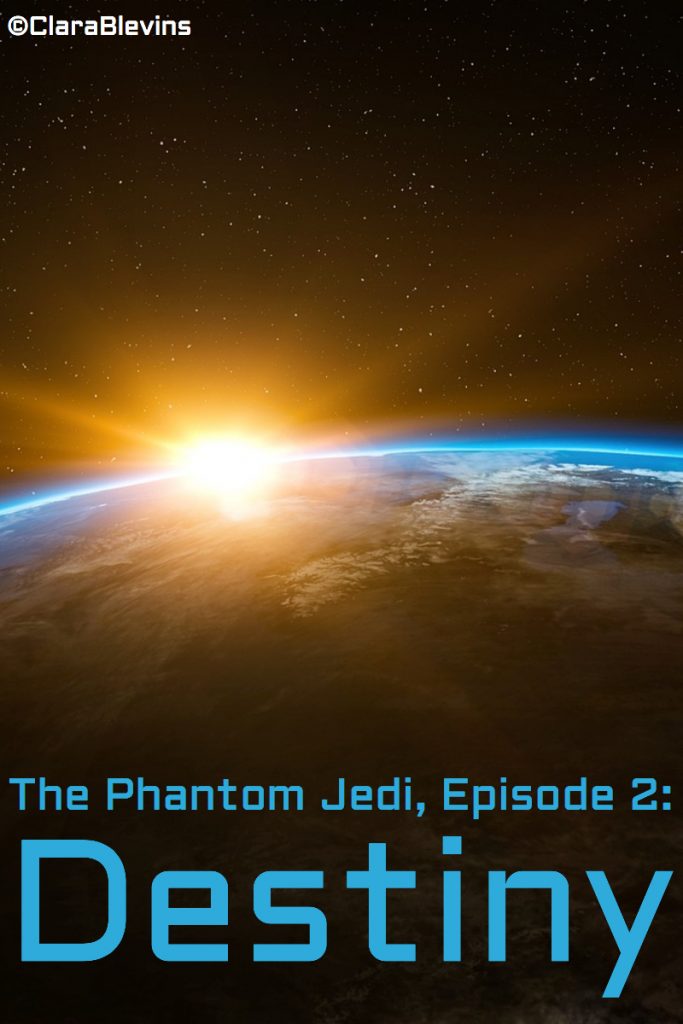 A year later. . .
Acacia Alta Rau stood on the bridge of her own freighter, Destiny, watching her crew of about 15 do continue their surveillance routine. Well technically, if she had opened her eyes Acacia would have only been able to see the pilot, co-pilot, communications officer, and sensors officer. However, Acacia considered her ability to track the rest of her crew's progress with the Force pretty much the same as standing next to them. As they prepped for the mission ahead, Acacia's mind wandered over the last year.
Umari Rau, a former slave, Ibris Rau's wife, and the leader of Phantom, the smuggler/anti-slavery activist group Acacia was now a prominent member in, had welcomed Acacia with open arms. Because of Acacia's sense of honor and her skills as a fighter, Acacia had risen in the organization quickly. Becoming second only to Umari herself, Acacia was running a large section of Phantom and was Umari's main enforcer when it came to the code which the organization was bound by. Under the guise of the Mandalorian pod racer, Cias Drii, Acacia had gone on missions to Caldos, Genehiem, Alderaan, Ryloth, Saleucami, Kiros, Onderon, Taris, Leeto, Rishi, Bimasari, among others. Most of them had been intelligence or scouting missions, with a few regulation enforcement ones mixed in.
Distantly visible in the viewport of her freighter was the focus of her next mission: Teilos. If Acacia's preliminary investigation was correct, Caldron, Phantom's base commander for the planet, was definitely involved in the slave trade. Normally Acacia would have just gone in and remove him from his position, taken out those who supported his involvement in the slave trade, and moved everyone else to a new city under a new base commander. On the edge of her awareness flew the reason why she couldn't do that: Jedi. The Teilosian government had asked the Jedi to locate a group of missing children kidnapped by Caldron's people. Dutifully, Jedi Master Obi Wan Kenobi and his padawan, Anakin Skywalker, were doing just that. So, Acacia and her crew sat and waited. Though they wouldn't have to wait long, Acacia mused.
A shift in her pilot's sense brought Acacia's mind back to her bridge. "What is it C?" Cole Nuhru, the young Mandalorian and rightful Count of Caldros inquired with a look of concern. Without opening her eyes, Acacia answered "The Jedi have arrived at Teilos, begin moving us closer Pilot 1."
Acacia and her crew rarely called each other by their real names, using their mission code names instead to prevent mid-mission mistakes. Most of her crew knew each other's names, but she and Ibris were the only ones who knew Cole's full name. Which was why she was very careful to always use his codename unless they were alone. No one could know where Count Nuhru was hiding.
About half a week later. . .
Obi Wan Kenobi was exhausted and felt that this mission could hold no more surprises for him and his padawan. They stood back to back, lightsabers humming as the leader of the smuggler group they had been sent to negotiate with ordered their execution. Why is it every time we try to negotiate with smuggler, it ends up turning into a firefight? Obi Wan wondered with some annoyance. Except this time they hadn't even started the negotiations before the smuggler leader had chosen the path of violence.
"I wouldn't do that if I were you, Caldron." warned a commanding filtered female voice from behind the smuggler.
"Stay out of this, Cias. My fight is with the Jedi, not with you or Phantom Leader."
"Opposing the Jedi is against our code, Caldron. For that matter, so is slavery which thanks to the Jedi I now have evidence you have participated in. Umari will not be pleased at this betrayal." Acacia responded through the filters in her Mandalorian helmet.
"Alone you don't stand a chance!" Caldron snarled back as Acacia's blaster rested on the back of his head.
"I never work alone, slaver." Acacia hissed back, biting last word out between gritted teeth.
Out of the shadows came the five members of her crew that had come with her. Cole and Ibris were both dressed in Mandalorian armor that matched hers, then there was the female Togruta, Atari, and W and V the Wookie couple who's names were hard to pronounce in any language but their own. It was then that Caldron's crew realized that there was no escape. Caldron turned on her, his pair of short swords flashing and the fighting began. Moving through the melee to Master Kenobi's side, Acacia ducked under one of Anakin's swings and shot the smuggler who's lasers he had been blocking. Obi Wan commented "We should really stop meeting like this, Cias. Though I have to say, you do have impeccable timing."
"I agree. Though I would like to point out that I am not the one always getting into trouble."
"Don't remind me." Obi Wan quipped as he advanced on one of their attackers.
A few minutes later the fighting had stopped. W, V, Ibris, and Cole headed for the storage area and the shipping area to take what they could before the authorities arrived.
"Such a waste of people." Atari observed looking sadly around the room, her vibrosaber back in its sheath. And Acacia had to agree.
While her crew took care of covering their tracks and removing any evidence of Phantom's existence, Acacia walked with Obi Wan Kenobi and Anakin Skywalker to their ship.
Arriving at the ship, Obi Wan ordered "Anakin, send our coordinates to the Teilosians and inform them we have found their missing children."
"Yes Master."
Acacia removed her helmet and for a moment the two appeared to just stand there. "Promise?"
"I promise, Acacia." Obi Wan responded softly.
Turning her back and heading back to her crew, Acacia put her helmet back on before he saw the tears that had come unbidden to her eyes.
To be continued. . .
This series has been restarted, read this post to learn more about what that means for The Phantom Jedi.
This post was posted in honor of Star Wars Month and Fan Fiction Friday.
This post is part of my 2018 Star Wars Month Series and is a Star Wars Fan Fiction. To learn more about The Phantom Jedi, click on the image below.