Mystery Planet . . .
Acacia's mind had adjusted to the constant attack enough for her to regain some sense of her surroundings. Her captor stood on the far end of the chamber, his back to her, seeming in a sort of meditation. Not turning to face her, he called out in his deep rasping voice:
"Your resistance is . . . impressive. Not that it will matter in the end."
"You will fail, Sith. I have seen your death on my father's blade."
Walking towards his prisoner, the red and black Zabrak wore an amused expression.
"Perhaps. But no matter the outcome of our duel, my revenge will remain complete. For your father has failed to protect his most valuable treasure. . . . you." The last words were spoken with his face near hers, with his hand lifting her chin so their eyes locked.
Your people have rejected you . . . and your father has forsaken you . . . Give in to your hatred . . . find freedom in your pain . . . the Jedi have abandoned you . . .
Somewhere in space . . .
In the cockpit of the Twilight, Obi Wan listened as Yoda, Mace Windu, and Ki Adi Mundi discussed what adjustments would need to be made to the battle plan in his absence. Glancing down at Anakin, Obi Wan knew his former padawan was not happy that he was being sent back to join Admiral Yularen and his fleet. After the transmission ended, Anakin turned to his former master with a look Kenobi recognized well.
"If you need me. . ." Anakin started, but Obi Wan interrupted:
"I will call Anakin. For now, do as the council says. I am going to upset them enough as it is." his voice and sense full a resignation and worry, Obi Wan signaled Pilot 1 to follow him.
"Where are you going to look for her?" Anakin called after them
"Zhar." Kenobi replied as the door closed behind him.
Mandalore . . .
Duchess Satine Kryze sat at the long dining room table alone. Her dinner finished, and her thoughts had gone to her absent daughter. Acacia had been absent more and more since the beginning of the war, and Satine knew that her daughter was facing dangers unknown. It had taken time, and patience on Satine's side, for Acacia to confide in her mother about her off planet activities. Once Acacia had, Satine had been filled with a mix of pride in her daughter and fear for her safety. Even Fenn Rau's consistent assurance that Acacia was fully capable of taking care of herself did not completely ease Satine's heart. The Duchess of Mandalore was meditating on these facts and the stories her daughter had told when her daughter's private comm-channel pinged. Glancing around the room, Satine answered and was startled to see Obi Wan Kenobi and Pilot 1.
"Acacia?" Satine inquired her fears attacking in full force.
"We will find her, Satine. But I wanted you to be as prepared as you can be . . . if . . . if she is. . ." Obi Wan responded his voice breaking as he tried to find the best way to say the words no parent wanted to say or hear.
"You do not need to say it, General Kenobi." Satine cut him off gently with a sad and sympathetic smile, her eyes full of tears. "I will prepare for you to bring her home. And . . . May the Force be with you, Obi Wan."
One the other side of the palace . . .
"Shad, who is it?" a young man's voice called from inside the chamber.
Bo Katan Kryze stood in the doorway of her son's room, hesitating when she heard his voice. Looking to the young Protector Shad for confirmation, all she received was a nod.
"Korkie?" Bo Katan called back, stepping into the room and into the sight of her son.
"Mom?" He gasped incredulously, standing up in his surprise. Bo Katan barely noticed Shad closing the door behind himself. They rushed towards each other and Bo Katan held her son close to her, tears of relief and joy welling up in her eyes.
"Thank Mandalore you are safe." Bo Katan declared, her voice full of emotion.
"I'm sorry mom." Korkie whispered as he returned her embrace. Stepping back to get a better look at him, Bo Katan looked into his eyes.
"I should have known better." He finished as he looked down at the floor.
"I should have insisted on telling you that I was going undercover." Bo Katan responded, "You've grown so much while I was gone."
"Is Death Watch gone now, mom?" Korkie asked, looking up into her face with barely hidden curiosity.
"Yes, my son." Bo Katan answered a shadow coming over her face. Looking up as the door to the room opened, Bo Katan looked into the grief stricken face of her older sister. In a moment they where weeping in each other's arms.
"Tell me how it happened, Bo. Ben called, but he didn't say much more than that she was missing." Satine requested after regaining control of her emotions.
"Sit, sister, and I will tell you all I know." Bo Katan replied full of sympathy for her sister and worry for her niece.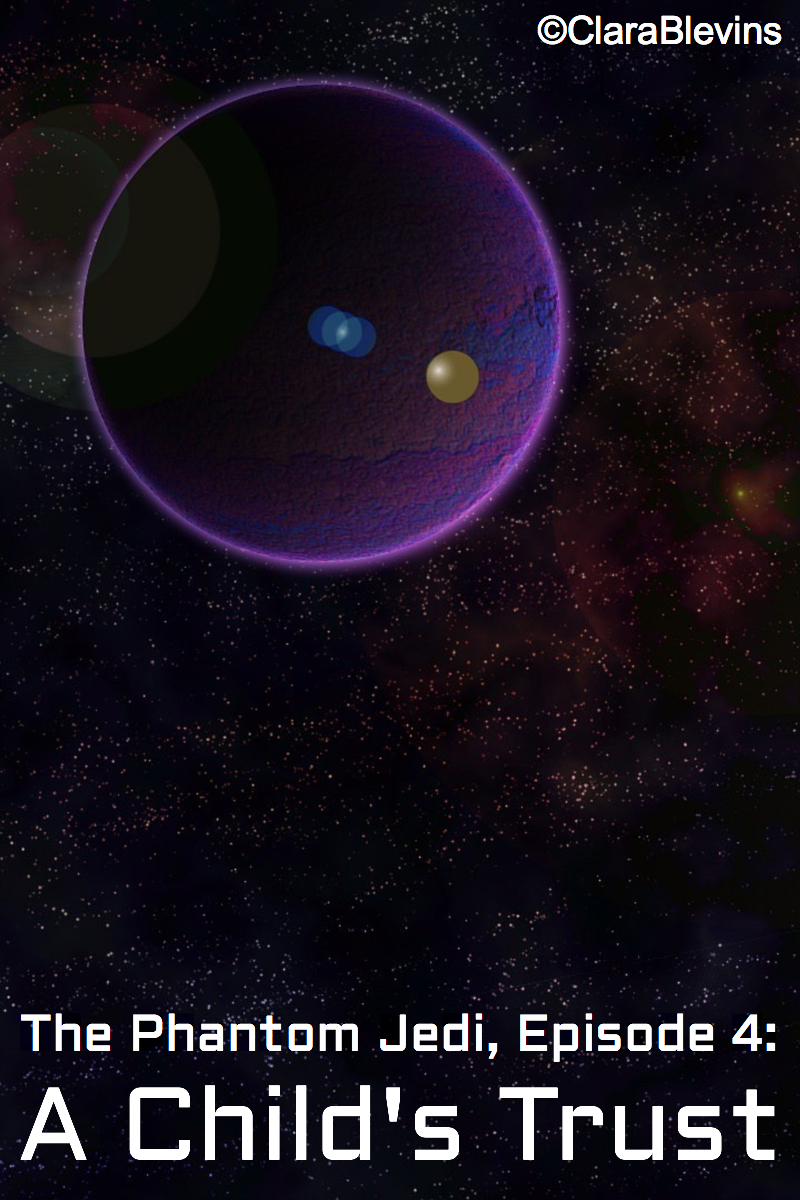 The space above Zhar . . .
As they emerged from hyperspace, Pilot 1 glanced over his shoulder at the door leading to the Mediator's cargo bay. Before him lay the planet Zhar, its unnatural purple and blue color reminding him of what Kenobi had told him about the planet. A place sacred to the Sith, Zhar was a world long corrupted by the Dark Side of the Force. It was home to the ruins of the temple where the art of using psychic crystals had been taught. When the Sith headmaster and his pupils destroyed the temple in an act of mass suicide shortly before the fall of the Sith Empire, the place was forgotten by Jedi and Sith both. But not by the Mandalorians. Pilot 1 mused, and, without looking behind him again, asked: "Where do you want me to land?"
Not at all surprised, Obi Wan Kenobi sat in the co-pilot seat and focused his mind on the map. After a few minutes of searching the Force for Acacia's sense, he pointed to a place on the map. "That appears to be the best landing place near the temple."
Pilot 1 nodded and moved the ship in that direction. In the last few days he and Obi Wan had talked about many things, though admittedly Pilot 1 had done most of the talking. Kenobi had asked about his daughter's mission for Phantom and Pilot 1 had complied with telling him animated accounts of every mission he could remember.
Landing the ship with the skill of a natural pilot, he glanced sideways at his companion. "Are you sure you want me to stay here?"
"Yes. I realize what I am asking you do to, Cole, but . . ."
"We will need to get her, and possibly you, too a medical facility as soon as possible. The best chance we have is by having someone here to keep the engines running, run the hyperspace calculations, and take off the instant you get one board." Cole Nuhru finished giving his companion a resolute expression.
Smiling his thanks, Jedi Master Obi Wan Kenobi left his young friend to complete those tasks and headed toward the ruins of the old temple.
Obi Wan Kenobi walked over the dark decaying landscape, the flickering of his daughter's life in the Force clawing at his heart with every step. He came to the rim a low basin in the center of which stood the ruins of an ancient Sith Temple. On the nearest side of the courtyard there was lump that didn't match the surroundings, as his eyes came to rest on it the lump twitched.
"Acacia!" Obi Wan called, his caution forgotten as he scrambled down the basin's gravel wall. Reaching Acacia's side, Kenobi held her in his arms his eyes overflowing with tears. Her tunic was torn, blood soaked and fit loosely around her thin frame, her face were covered with cuts and dirt, her eyes were sunken and bright with fever. She looked up at him with eyes filled with pain, though her expression was one of complete peace.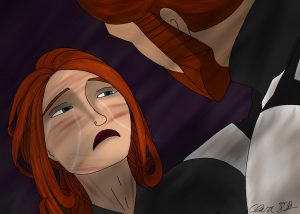 "I am going to get you out of here, little one." Obi Wan choked through his sorrow trying unsuccessfully to keep his voice from breaking.
"I knew you would come for me." Acacia whispered a child-like expression of complete trust on her face, raising a weak hand to his cheek. "Just remember what you taught me, papa. Don't let him win." Acacia pleaded hoarsely the words seeming almost too much for her to say.
"I won't, I promise. Stay with me Cia, please." Even as Obi Wan said the words, she fell limp in his arms her sense falling even closer to death. The constant mental strain and the lack of water and food had taken their toll.
From above him came triumphant laughter. Laying his daughter gently to the ground, Jedi Master Obi Wan Kenobi stood up and gave his tormentor a look of defiance. Standing on door frame of the Sith Temple, Darth Maul continued his taunting chuckles.
Cole stood a few paces from the ship's docking ramp staring in the direction Master Kenobi had gone. He resisted the urge to follow the Jedi, knowing that Acacia would want him to obey her father even if everything in him shouted to go out there and help find her. The ship's nav computer had finished the calculations and has ready to take off with a moments notice.
The planet's orange sun was low on the horizon, and perfectly silhouetted the figure of Obi Wan Kenobi retracing his steps with his daughter in his arms. Running back up the ramp, Cole started the sequence and had the ship in the air as the ramp came up.
To be continued. . .
This post was posted in honor of Fan Fiction Friday.
The Phantom Jedi is a Star Wars Fan Fiction. To learn more, click on the image below.