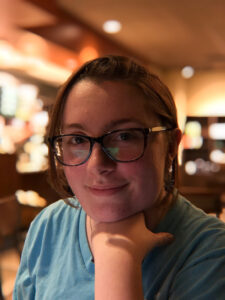 My name is Clara and I have a B.A. in Graphic Communication. I enjoy a range of projects, from more traditional art to graphic design. In the design realm, I particularly enjoy doing layout design, creating both posters and multipage documents. Of the traditional arts, drawing is my personal favorite. In my spare time, I also enjoy photography and painting. As you navigate around my portfolio, you will find examples of my work from all of these different mediums and more.
Artist Statement
I love to draw both with pencil and paper and digital art. Ever since I was a little girl, I have been telling stories. In high school. I discovered I had a knack and a passion for designing. I was struggling with writing a story, and my dad suggested I make a storyboard. At first, my drawings were in pencil, but they eventually evolved to digital character illustrations. Learning to use the Adobe software inspired other projects, and eventually led to exploring the world of graphic design. Coming out of high school, creating movie posters for my stories in Photoshop was a favorite pastime. In college, this has evolved to more client-focused work, but I still create story art in my free time. Showing a character's personality and story through art is something I am passionate about.
In both my art and creative writing, I have found much of my inspiration in the stories of the Star Wars Universe. Both the written and visual art has inspired me for a long time. The Star Wars: The Clone Wars animated movie and tv show inspired me the most. I want to design, draw, and write stories and characters that will inspire others the way Star Wars has inspired me.
In design, I have a very flexible style that fluctuates with the direction of the project. My default medium is digital illustration, though I enjoy the more traditional mediums of pencil and paint as well. I tend to use symbolism in my art and design, as a way to give depth to a design or character.
My dream is to have a job in the design industry. Eventually becoming a freelance designer and concept artist, while continuing my passion of creating my own characters and writing their stories.
Quotes of Inspiration
You have to remember every piece that's been played, even the ones removed from the board, because some of them might count against you in the end.

~ Ahsoka Tano, Star Wars: Ahsoka
Perhaps this is the moment for which you have been created.

Esther 4:14
What the caterpillar calls the end of the world, the master calls a butterfly.

~ Richard Bach
There is always a choice! To live in fear is no choice at all.

~ Padme Amidala, "Bombad Jedi" The Clone Wars